Future 2's summer time "Solstice" seasonal occasion is correct across the nook, and forward of this 12 months's loot celebration Bungie has outlined some large adjustments. A number of of them I really like. Others not a lot. The proof can be in how the occasion's total grind is balanced, however for now I'm intrigued in a means I haven't been in years.
In instances past, the Future 2 Solstice was simply a very acquainted grindfest suffering from annoying wrinkles. Bungie is attempting to shake issues up this time round, and right here's how. As beforehand teased, the Solstice festivities will now be organized round a single Occasion Card to make every little thing simpler to trace. Like the present weekly challenges tab, it can assist you keep on prime of all of your long-term aims. It's additionally being monetized.
All through the Solstice occasion you'll earn tickets, and in case you pay $10 to unlock the premium tier of the Occasion Card, you can begin buying and selling these tickets in for unique new rewards. Some Solstice cosmetics may even be bought by way of the common Eververse microtransaction store, however others can be locked behind the Occasion Card. That is supposed to save lots of gamers cash, with the full earnable rewards exceeding $30 in worth in the event that they have been bought within the store. It's successfully a new mini season go.
However the actual meat of Solstice is armor, and the adjustments there are much more intriguing. There's an elaborate new forex financial system and it's all geared round upgrading gear so you may re-roll it for increased customized stats. It's extraordinarily complicated and likewise extremely on model for Future 2. Right here's how Bungie breaks it down:
Earn Kindling by finishing Solstice Occasion Challenges
Spend Kindling to improve your armor stat roll potential
Earn Silver Leaves by finishing actions all through the sport
Rework Silver Leaves into Silver Ash by finishing the brand new exercise: Bonfire Bash
Spend Silver Ash to reroll armor stats from the armor mod display
G/O Media might get a fee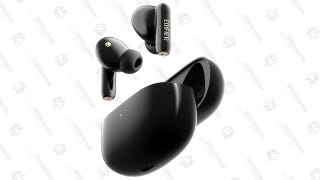 Save 60%
Edifier 330NB True Wireless Earbuds
Hybrid active noise cancelling
The earphone adopts hybrid ANC technology. The feedforward mic and feedback mic collects the internal and external ambient noise to generate a reverse sound wave to reduce the noise. It creates a new depth noise reduction of -38dB
There are three upgrade tiers for armor. Every time a new tier is unlocked, it applies to every piece of that armor. Once you unlock all tiers, you can start choosing which stats to maximize when re-rolling (the armor will also start to glow, though the best glows will still be locked behind a microtransaction). The idea is to let you chase armor with a certain build in mind, whether for Trials, Grandmaster Nightfalls, or any other end-game activity. It sounds great, in theory at least.
In practice there are some ways it could really suck. The most obvious way is if this new system runs into bottlenecks and makes it hard to go at your own pace. There is effectively no reason to reroll armor before you've maxed out the upgrades, but those upgrades are predicated on completing Event Card Challenges, leading to the possibility you reach the cap on Leaves or Ash before you can do anything meaningful with them. Hopefully that doesn't happen, and hopefully the activities are generous in awarding the new currencies.
I say hopefully because I'm actually looking forward to Solstice this year. It's been a while since the last time I wrote about Destiny 2. Things are a bit love/hate right now, which is saying something considering Bungie's loot shooter has been inspiring mixed emotions for almost eight years. Season of the Haunted has been an actual disappointment for me up to now, particularly coming off the excessive that was The Witch Queen.
Historically I've burned out on the annual Solstice occasion in a short time, however after some longer breaks from the sport than traditional this 12 months, I'm truthfully wanting to get again into it and have one thing to do moreover one other dreaded run by way of Nightmare Containment. The summer time launch calendar is barren (with a couple of notable exceptions) and I would like one thing to fill the gaps. I'm additionally in determined want of extra chill. Grinding three totally different currencies and one other paid go to max out rewards won't sound like that, however when Future will get it proper, that will be pure bliss.