Some time again I had writer and recreation developer Geoffrey Englestein on my podcast. We talked about how the psychological idea of loss aversion impacts recreation design, together with tabletop role-playing video games like Dungeons & Dragons. Loss aversion is fairly well-known at this level, however right here's the brief model: dropping one thing is extra painful than gaining one thing of equal worth is pleasurable. For instance, dropping $10 is extra painful than gaining $10 is pleasurable. 
BEHOLD, I HAVE CREATED A GRAPH TO ILLUSTRATE: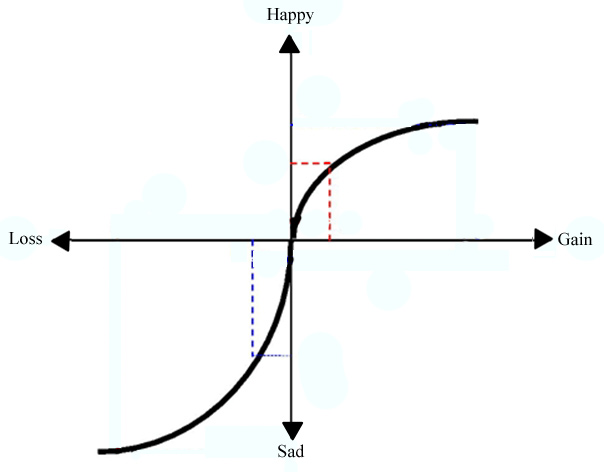 Alongside the horizontal axis, you will have losses and positive aspects, with "zero" on the center. The vertical axis we are able to simplify right here as rising happiness (high half) or unhappiness (backside half). Should you plotted the happiness that might outcome from a sure achieve you'd draw the dot proper on the road as proven by the crimson dotted traces on the graph.
Discover that the slope of the road is steeper within the losses/unhappiness decrease left quadrant. That's, it takes a lot much less loss to create a sense of unhappiness that's equal in magnitude to the corresponding glad achieve. Unhappiness plummets with solely somewhat loss relative to how a lot achieve is required to create an equal quantity of happiness. That is loss aversion.
One factor that basically struck me in my dialog with Geoffrey Englestein was how loss aversion has formed the evolution of Dungeons and Dragons from version to version, beginning with AD&D as much as fifth version right now.
In later editions of D&D, it's sort of laborious to frighten gamers. Characters in 4th and fifth version are heartier and extra highly effective than in earlier editions, and actual loss isn't often on gamers' minds since loss of life might be averted and even undone. This wasn't at all times true, although. Character loss of life was extra widespread in earlier editions, and as soon as upon a time D&D even included one thing a lot worse: stage drain.
I dug out my authentic AD&D Monster Handbook from 1977 and seemed on the entry for "Wight," a nasty undead creature. The second paragraph accommodates this horrifying gem:
As a result of these monsters exist concurrently on the traditional and unfavorable planes of the fabric aircraft, they're affected solely by silver or magical weapons. This existence permits them to empty life power ranges — one such stage every time they rating successful on an opponent. The creature so hit loses the hit factors of injury scored (1-4) plus one expertise stage and all of the bonuses derived from that stage, i.e. hit cube, class bonuses, thief skills, spell ranges, and so on. A ninth stage magic person struck by a wight loses 1-4 hit factors and he turns into an eighth stage magic person…
Yeah. That's proper. If a wight hit your character you simply misplaced a stage. And it suuuuuucked. In his e book, Achievement Relocked: Loss Aversion and Recreation Design Englestein writes:
In later variations, D&D third version and model "3.5," stage drain was modified by permitting gamers to make a saving roll to stop a stage loss. But when the roll failed, the extent was completely misplaced.

In fourth and subsequent editions, stage drain was fully eliminated. The undead creatures that used to have it now put results on characters like weaken or immobilize –which might be cured by way of regular means inside the recreation.
The explanation for these adjustments, after all, is that due to loss aversion gamers HATED dropping ranges far more than they even loved gaining them, and the prospect was terrifying. I believe Englestein was 100% right when he famous:
If gamers had been supplied the chance to combat a creature with a fifty-fifty probability of both gaining a whole stage or dropping a whole stage, I'm fairly assured that the majority would cross it up.
I agree. Why? As a result of loss aversion skews our perceptions of the anticipated worth of such a guess. As a result of losses damage greater than equal positive aspects are interesting, the guess doesn't appear to be it's 50/50. It feels extra like 30/70 in favor of a horrible consequence.  
You see this type of method in recreation design on a regular basis, the place everlasting character losses are averted for the sake of enjoyment. Or, if the sport designer is intelligent sufficient, the losses are reframed in a manner that make them appear in contrast to losses and even like positive aspects. For instance, as a substitute of taking a -2 penalty to their assault rolls due to an historical curse, the enemies the character faces might get a +2 bonus to their protection ranking on account of the identical curse.
Does this make for a greater D&D recreation? Ought to we return to having monsters suck out character ranges like marrow from a bone? Personally I don't assume so, however numerous old skool gamers might disagree. The sickos.